We like social data.
We like football.
We love the Social Team of the Week we create using the Blurrt score even more!
The ratings we give players are calculated using the Blurrt Score, a unique metric that measures audience reaction by analysing and understanding sentiment expressed in social media posts using our own natural language processing system as well as factoring in the volumes of conversation going on.
This means that quite often players selected in Blurrt's Social Team of the Week may not necessarily match the expert's views as to who would make their primarily performance-based team.
Let's take a look at the 11 from Gameweek 36:

Of course as we rely entirely on social conversation, players who do have a great week, such as Vincent Kompany, who this week not only kept a clean sheet but scored one hell of a goal, will generate a lot of positive conversation and essentially pick themselves in both the social and critic's selections.
But then Alberto Moreno and John Terry are in our team; a duo who played a combined total of 6 minutes of football last gameweek, Terry barely getting a touch of the ball and Moreno not even getting to run onto the pitch. It may seem a strange choice, but then when you look at the data that's put them there, it all makes sense.
John Terry has been a Chelsea player since 1998, has played over 700 games, is their all-time most successful captain and the club's highest scoring defender. It's safe to say that when he leaves the club this summer, he'll deservedly take the title of a 'Chelsea Legend'.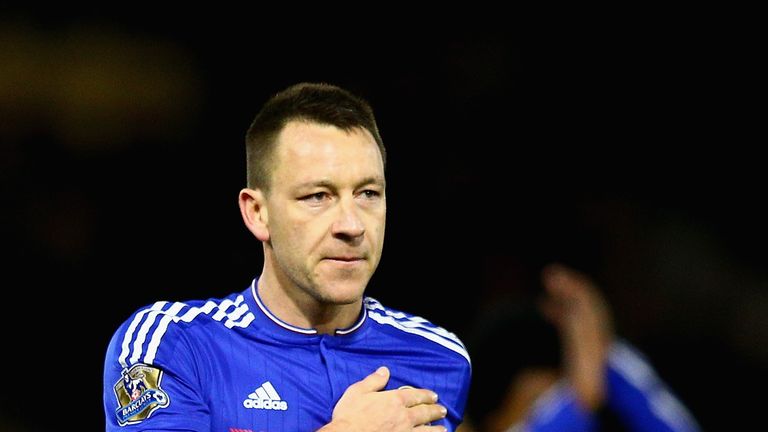 John Terry scored a Blurrt score of 8.7 this week which is mighty impressive for 6 minutes of game-time. There were 3,209 posts about JT captured during the game, with over 90% of those being posted during and after the substitution was made.
Whilst that volume isn't by any means exceptional, (although having said that as the sub was made JT reached an impressive peak of 402 posts a minute) it's the strength and proportion of positive sentiment expressed that boosted JT up to an 8.7.
And to a great cheer, John Terry is preparing to join the action. #CHEMID

— Chelsea FC (@ChelseaFC) May 8, 2017
When Terry came on the pitch, captain Gary Cahill insisted Terry take the captain's armband – a well-received gesture that only helped in boosting positive conversation.
54% (1,744) of all posts were positive and only 3% were negative. When each individual social post is analysed, it's given a value ranging from -5 (incredibly negative) to +5 (incredibly positive) and those 1,744 positive posts about JT averaged a score of 3.6, which, take it from us, is a lot of love for the Chelsea captain.
Alberto Moreno is an even stranger member of that team, whereas actually Terry came onto the pitch, Moreno remained on the bench for the entirety of Liverpool's disappointing 0-0 draw with Southampton.
Sadly, for Moreno, it was less his footballing than his 'water bottle flipping' ability that sees him make our team of the week…
Captured on video attempting the recent viral phenomenon of recording yourself flipping a bottle so it lands perfectly upright, those 3-4 seconds of Moreno quickly spread across the internet like wildfire, with the majority of those sharing the content finding the video particularly funny.
In fairness to Moreno, it's been that type of game. pic.twitter.com/m2gG7c3zgl

— Paddy Power (@paddypower) May 7, 2017
There were 7,206 posts about Moreno during the game, with both hahaha & 😅
being used well over 500 times to make up a big slice of the positive conversation. Of course there was still a fair bit of negative conversation about the fact Moreno was distracted and not concentrating on the game.
By using Blurrt's audience segmentation to look at those identifying as Liverpool fans who posted negatively about Moreno, we can see there were 894 negative posts from Liverpool fans with some of the most common emotive words used being; hate, awful, incompetent, smh, worry, stupid & vexing.
The Social Team of the Week makes a unique and quite interesting view of each individual Premier League game-week; celebrating those players who have performed well alongside those players who have sparked social conversations. It provides the opportunity for additional talking points outside of 'he's there because he played well', and creating content and conversations is exactly what we're all about here at Blurrt.
Moreno being able to rack up a score of 7.3 amongst high levels of negativity is pretty impressive and goes to show what the power of viral video sharing can do – but just imagine if he'd actually come off the bench to score the winning goal after that video had already started to circulate – we might have seen an unprecedented new high on the Blurrt score and had to add a new value past 10, one we'd happily name 'The Moreno'!